Head, International Coordination / Partnership, SA and Africa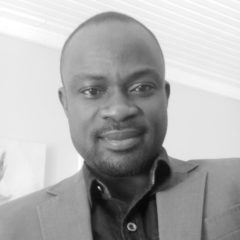 Enthusiastic Environmental and Marketing Manager with over 12 years of experience in highly reputable banks including FirstBank of Nigeria Plc and Guaranty Trust Bank Plc and more than 5 years of research, materials development and teaching assistant experience.
Adekunle is a vision-driven, entrepreneurial, and optimistic personality with a track record of successfully leading multiple business service teams. A true and strongly committed professional with the willingness to impart knowledge to the younger generation, encouraging creative thinking and building personal development skills.
Adekunle Raimi, holds BSc (Microbiology) from University of Ibadan, Nigeria; and with MBA (Finance) from Obafemi Awolowo University, Nigeria. He is also a holder of MSc (Environmental Science) from University of South Africa UNISA, South Africa. Adekunle is presently a PhD candidate (Environmental Science) at the North-West University Potchefstroom, North-West, South Africa.
Join Our Community
To learn more about our institute and how you can get involved, register as a member.