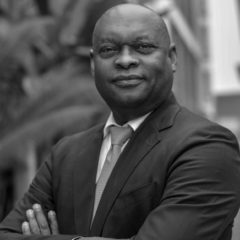 Kyari Bukar is a business leader, a renowned economist, and management strategist with local and international cross functional exposure bagging over three decades experience in management at senior and executive levels. He is the immediate past chairman of Nigerian Economic Summit Group (NESG), a think-tank independent organization that promotes sustainable growth and development as well as a private sector economic advisory organization to Federal Government of Nigeria.
Kyari Bukar is the Co-Founder, Trans-Sahara Investments Corporation, (TSIC) a private equity firm that originates, develops and actively manages direct investments in sub-Sahara African business with a focus on West Africa. And prior to Kyari Bukar's setting up TSIC, he was the CEO of Central Securities Clearing System Plc (CSCS), the central securities depository for the Nigerian capital markets, where he was instrumental in the transformation of the company.
Kyari Bukar who was instrumental to bringing Visa Card to Nigeria, was also a former Chief Executive Officer of Valucard Nigeria Plc and Unified Payments. And he was one time an Executive Director of FSB international Bank, now Fidelity Bank Plc
Before moving to Nigeria, Kyari Bukar spent 14 (fourteen) years working with Hewlett- Packard (HP) in United States, one of the World's leading IT Companies, where he rose to the position of Senior IT Consultant and Worldwide Technical Marketing Manager, within the divisions of the Company.
Kyari Bukar sits on the boards of other leading companies in Nigeria such as Standard Chartered Bank, Equity Assurance Plc, Chams Plc, and many others. He holds a B.Sc. Degree in Physics from Ahmadu Bello University, Zaria, Nigeria, and M.Sc. Degree in Nuclear Engineering from Oregon State University, USA. He is an alumnus of Lagos Business School (LBS), Wharton Business School and Harvard Business School, USA.
Join Our Community
To learn more about our institute and how you can get involved, register as a member.